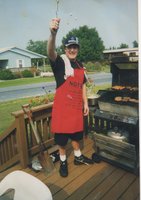 Brian C. Wooden

Brian passed away on Feb. 18, 2018 at Our Lady of Lourdes Hospital, Willingboro. Age. 56.
Born in Mt. Holly, Brian was a resident of Riverside since the early 1990's. He was employed as a cook at Milanese Pizza, Delran. He was an avid fisherman and had an amazing sense of humor.

Beloved husband of Dorothy T. (nee Holgate). Devoted father of Ronnie and William Hoffman. Loving son of Mildred Wooden (nee Deal). Dear brother of Mike and Kevin Wooden and the late Rick Wooden.

Relatives and friends may pay respects to the family Saturday, March 3, 2018 from 6 pm - 7 pm at A New Hope Bible Church, 840 Bridgeboro Rd., Riverside followed by Brian's Memorial Service at 7 pm.