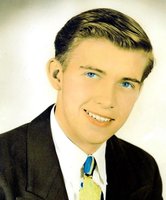 Theodore "Ted" Salkowski
It is with great sadness that the family of Theodore "Ted" Salkowski announces his passing, on Sunday, April 15, 2018, at the age of 91 years.
Ted will be lovingly remembered by his wife of 67 years, Elizabeth and his children, Theodore, Jeffrey (Linda), Sherri (John), and Richard (Helen). Ted will also be fondly remembered by his seven grandchildren, Loren (Joseph), Alyssa (Weston), Stephanie, Jeffrey, Timothy, Alison, and Daniel. Ted will also be forever remembered by his four great grandchildren, Zara, Keira, Harper, and Isaak.
Ted was a veteran of World War II and served with the United States Navy. He went on to work at Public Service Electric and Gas Company for 39 years. He loved spending time with family and friends. He loved to laugh and always had a joke to tell. He enjoyed fishing, crabbing with his grandchildren, and spending time gardening. He was a fantastic cook and loved to feed his family.

Relatives and friends are invited to pay respects to the family on Friday, April 20th from 11 am to 12 noon at Chadwick Memorial Home, 154 Webster St., Riverside, NJ 08075 . Memorial service to follow at noon. In lieu of flowers, donations can be made in his name to The Woodford Cedar Run Wildlife Refuge (cedarrun.org).