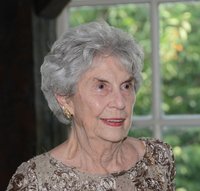 Catherine A. "Kitty" Manion
Catherine A. "Kitty" (Kohut) Manion passed away in her home on Saturday, April 14, 2018 surrounded by her loving family. She was 84. Born in Blythe Township, PA, she grew up in Middleport, PA. She was happily married to her husband, Martin, for over 50 years.

She was preceded in death by her husband, Martin Manion; her sisters, Julie Smith and Bernadine Langton; and her brother, John Kohut. She is survived by her son, Paul Manion, (Mary); her granddaughter, Marisa Corry (Brian, Jr.); her sister, Margaret Dallatore; and many nieces, nephews, extended family, and friends.
In 1970, Kitty and Marty started a manufacturing business. Working out of their garage, the first year's gross sales were a whopping $375. Undeterred, they continued to slowly grow. While Marty worked full time in construction, Kitty assembled the day's production. When he got home, Marty completed the job, often working far into the night. Paul joined the business in 1982 and worked alongside his parents for many years. After 47 years of faithful service, Kitty reluctantly retired due to the sale of the company.
Kitty was a most loving mother, grandmother, and aunt. She shined at being the hostess and entertaining her close-knit family. She enjoyed going to casinos, traveling, and was an avid reader. She will be remembered for her strong work ethic, determination, generosity, bravery, and loving spirit.
Relatives and friends are invited to attend "Kitty's" viewing Friday evening from 6 pm to 8 pm and Saturday morning from 9 am to 10 am at the Chadwick Memorial Home, 154 Webster St., Riverside, NJ 08075. Mass of Christian Burial 10:30 am at Jesus, The Good Shepherd Parish, St. Peter Church, Riverside. Entombment St. Peter Mausoleum, Riverside. In lieu of flowers, consider donating to Samaritan Healthcare & Hospice, 5 Eves Drive, Suite 300, Marlton, NJ 08053 Attn: Development Office.