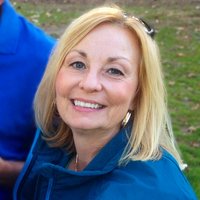 Teresa A. Heagen
Teresa A. Heagen (née Haas) of Burlington, New Jersey passed away peacefully on April 8, 2019. She was 62 years young. Born in Bristol, PA, Teresa grew up in Levittown and moved to Burlington 20 years ago. She was the co-owner of Chadwick Memorial Home, Riverside, NJ alongside her husband Jeffrey.
Teresa was a light in so many lives despite being no stranger to illness and tragedy throughout her own. You'd find that upon asking anyone who knew her what she was like, they'd recall her amazing and compassionate spirit, her contagious laughter, her fierce love for her family and friends, and her monumental strength and optimism in the face of adversity.
Teresa had a way of letting you know that she was fully invested in what you had to say, placing her needs after everyone else's and lending her shoulder to cry on. She never complained, despite a multitude of ailments and setbacks; responding to each obstacle with an optimistic disposition and hope for a better tomorrow. Even up until the end of her life, she lovingly reassured her heartbroken family "I got this. It's going to be okay!" She passed with a smile on her face, a true testament to her unwavering faith.
She was the loving wife of Jeffrey, devoted mother to Stephanie (Tim), "Giggy" to the "little love of her life", Asher, and his soon to be born brother Elliott, whose name she chose prior to her passing. Caring stepmother to Brian (Beth), Colleen (Justin), and "Gram" to Emma, Nicholas, and Alyese. Teresa was also dear little sister to Barbara (Jim) and Paul (Renie), "wacky Aunt Terri" to her many nieces and nephews, selfless and loyal friend to many, and honorary "Mom" to nearly all of Steph's friends.
Friends and family are invited to attend Teresa's viewing on Sunday afternoon from 2 p.m. – 4 p.m. and from 6 p.m. – 8 p.m. and again Monday morning from 8 a.m. – 9 a.m. at the Chadwick Memorial Home, 154 Webster St., Riverside, NJ 08075. Mass of the Christian Burial to follow at 10 a.m. at St. Paul's Church (St. Katharine Drexel Parish), 223 East Union Street, Burlington, NJ 08016. Interment will follow at Resurrection Cemetery, 5201 Hulmeville Rd. Bensalem, PA 19020. www.chadwickmemorialhome.com